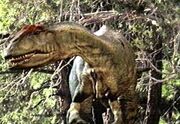 Big Al
is the nickname given to an
Allosaurus
that starred as the main character in
The Ballad of Big Al
. This special, unlike all the others, was actually based on fact - Big Al is a real skeleton . It had so many injuries at different points of healing that experts were able to piece together his life story, starting from an egg, and ending when he was 6 1/2 years old. In the end, it was the drought, a foot injury, and lack of food that killed him.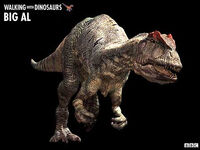 Have a Go
Edit
Try being a dinosaur in this game! Battle through four levels - hatchling, juvenile, subadult, and adult. Survive the dangers of the Jurassic and tactically move your way up the food chain.
Ad blocker interference detected!
Wikia is a free-to-use site that makes money from advertising. We have a modified experience for viewers using ad blockers

Wikia is not accessible if you've made further modifications. Remove the custom ad blocker rule(s) and the page will load as expected.