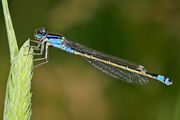 Formerly, the Anisoptera were given suborder rank beside the "ancient dragonflies" (Anisozygoptera) which were believed to contain the two living species of the genus Epiophlebia and numerous fossil ones. More recently it turned out that the "anisozygopterans" form a parphyletic assemblage of morphologically primitive relatives of the Anisoptera. Thus, the Anisoptera (true dragonflies) are reduced to an infraorder in the new suborder Epiprocta (dragonflies in general). The artificial grouping Anisozygoptera is disbanded, its members being largely recognized as extinct offshoots at various stages of dragonfly evolution. The two living species formerly placed there — the Asian relict dragonflies — form the infraorder Epiophlebioptera alongside Anisoptera.
Ad blocker interference detected!
Wikia is a free-to-use site that makes money from advertising. We have a modified experience for viewers using ad blockers

Wikia is not accessible if you've made further modifications. Remove the custom ad blocker rule(s) and the page will load as expected.