The Female Coelophysis appears in the first episode of the Walking with Dinosaurs series, New Blood, and is a main character. We follow her struggle through the dry season throughout the episode.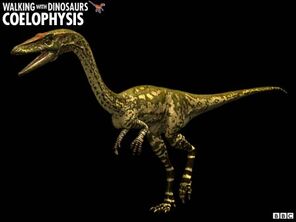 Appearances
Edit
She is seen trying to dig the Thrinaxodon out of their burrow, and when one baby comes too close to the entrance, she snatches it up and eats it. The father dashes out to protect the baby, but it is too late.
She is also part of the pack that feeds on the female Postosuchus after it dies. It is likely that several Coelophysis may have died were it not for this unsuspected food source.
She also chases a Peteinosaurus when she sees it drinking on the ground.
Finally, she attempts to intimidate the Plateosaurus at the end, but they are just too big for any Coelophysis to kill.
Ad blocker interference detected!
Wikia is a free-to-use site that makes money from advertising. We have a modified experience for viewers using ad blockers

Wikia is not accessible if you've made further modifications. Remove the custom ad blocker rule(s) and the page will load as expected.