Kenneth Branagh, born 10th December 1960, is the real, original UK Walking with Dinosaurs commentator. For the British public, most respected his unique accent and narrative contribution to the series. His voice certainly befits the slow burning and modest nature of Walking With Dinosaurs, a Natural History Drama-Documentary, whilst as with the series, also having a flair of its own in a truly magnificent but subtle way.
Criticism
Edit
A few British newspaper critics at the time of the first airing of the series in the UK, were rather unkind and expressed a dislike of Kenneth Branagh's voice, and also pointed out that they thought he was saying the names of Dinosaurs wrongly - none more so than the Diplodocus, which Kenneth rightly pronounced, 'Di-plod-u-cuss', not 'Diplo-doke-us', like so many say errenously. Even though it is written Diplod-O-cus, the proper manner of expression in tongue, is Diploducus. In the USA his voice was replaced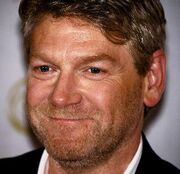 by that of
Avery Brooks
. He also narrated Walking with Beasts and Walking with Monsters from the "Walking with..." series. He has narrated the UK version of
The Ballad of Big Al
, as well as The Making of Walking with Dinosaurs.
Other appearances
Edit
Kenneth Branagh has directed and starred in several film adaptations of William Shakespeare's plays, including Hamlet and Much Ado about Nothing, among others. His first appearance in a Shakespeare film was Henry V. He has also narrated many audio books, including The Magician's Nephew by C. S. Lewis. He also appeared in the moving BBC Drama about the plight of British explorer Ernest Shackleton (playing Shackleton) and his companions in his early 20th Century polar explorations, in Shackleton.