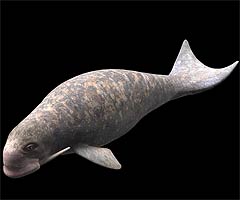 Odobenocetops

Lived

Diet

Herbivore

Type of Animal

Sea Mammal

Size

3 metres

Worst Enemy

Juvinille Megalodon
Bizarre sea mammals related to dolphins - but more closely related to Narwhals. These animals we up to 3 metres long, and they dwelt in thick kelp forests off the coast of Peru. They were the prey of juvenile
Megalodon
sharks. The males sported two tusks - one 30 cm or so in length, and oddly the other 4 feet in length. The purpose of such weird tusks is not fully understood, though it is suggested most likely that males 'jousted' with each other, using them to lock together in battles over females. They were however generally gentle marine bottom feeders, sucking up molluscs from the seabed. They lived in the Pliocene Epoch, 6-3 Million Years Ago.
Description
Edit
Ad blocker interference detected!
Wikia is a free-to-use site that makes money from advertising. We have a modified experience for viewers using ad blockers

Wikia is not accessible if you've made further modifications. Remove the custom ad blocker rule(s) and the page will load as expected.