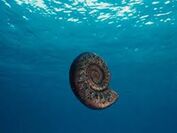 Perisphinctes was an ammonite found all over the world. Some could reach 3-4 metres in diameter.
Perisphinctes appeared several times in Cruel Sea, first when an Ophthalmosaurus attempts to eat it; however, the ophthalmosaurus jaw is not meant for the hard shell of the ammonite and it cannot eat it.
Specials
It is not in any of the specials.