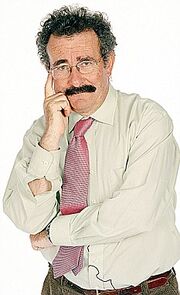 Highly esteemed British Scientist, Professor, Medical Doctor, Television Presenter, Politician and Honoured gentleman who presented Walking With Cavemen (the 2nd sequel to Walking with Dinosaurs), as the time travelling expert and explorer. His presence was for scale and also for comparison of features, as well as a more personal (and humanly ethical) source of dialogue between on screen events and the audience. Speaking to we the audience, Robert Winston explains his way through various times in human evolution. Knowledgable in many aspects of this anthropological exploration of Palaeontology and Archaeology, Robert posed many currently regarded theories and various demonstrations of these to the audience. He is supremely well qualified to present such a programme.
Robert Maurice Lipson Winston, Baron Winston (born 15 July 1940)
Robert has several close interractions with hominid ancestors, particularly the scene in which he shares a glance with Lucy the famous female Australopithecine.
Ad blocker interference detected!
Wikia is a free-to-use site that makes money from advertising. We have a modified experience for viewers using ad blockers

Wikia is not accessible if you've made further modifications. Remove the custom ad blocker rule(s) and the page will load as expected.