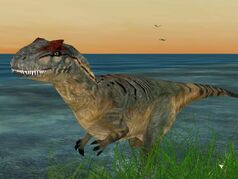 If you have Jurassic Park: Operation Genesis then you might like this skin of Big Al.
Download into the JPOG: http://filebeam.com/bigalskin
Note: REMEMBER, the skin must be extracted with Winrar (if you don't have Winrar then just download the trial) in JPOG/Data/Matlibs and always make a backup of your files!
Just follow the steps from this video (if you have the game)
Ad blocker interference detected!
Wikia is a free-to-use site that makes money from advertising. We have a modified experience for viewers using ad blockers

Wikia is not accessible if you've made further modifications. Remove the custom ad blocker rule(s) and the page will load as expected.