Walking with Dinosaurs
is a six-part documentary television mini-series t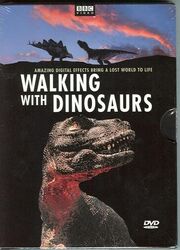 hat was produced by the
BBC
,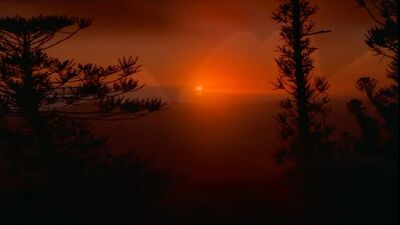 narrated by
Kenneth Branagh
, and first aired in the UK in 1999.
The series was subsequently aired in North America on the Discovery Channel in 2000, with Branagh's voice replaced with that of Avery Brooks. It was the first entry of the "Walking with..." series and used computer-generated imagery and animatronics to recreate the life of the Mesozoic, showing dinosaurs in a way that previously had only been seen in feature films. The programme's aim was to simulate the style of a nature documentary and therefore does not include "talking head" interviews. The series utilised paleontologists such as Professor Michael J. Benton of Bristol University UK, Professor David Martill of Portsmouth University UK, Dr.David Unwin (British) of the Berlin Museum, Jo Wright, Peter Dodson, Peter Larson, Thomas Holtz, and James Farlow as advisors (their influence in the filming process can be seen in the documentary The Making of Walking with Dinosaurs).
There are six time periods, one for each episode:
Episode 1: New Blood - 220 years ago
Episode 2: Time of the Titans - 152 years ago
Episode 3: Cruel Sea - 149 years ago
Episode 4: Giant of the Skies - 125 mya ago (listed in the book is 'Beneath a Giant's Wings')
Episode 5: Spirits of the Ice Forest - 106 mya years ago (listed in the book as 'Spirits of the Silent Forest')
Episode 6: Death of a Dynasty - 65 mya years ago
Differences with other media
Edit
In many feature films it is Human vs. Dinosaurs. The films focuses on making the audience cheer for the human as they run for their lives from the dangerous dinosaurs. But in Walking with Dinosaurs, however, we see everything from the view of a dinosaur. So it suddenly went Dinosaurs vs. Dinosaurs!
Walking with Dinosaurs - The Arena Spectacular
Edit
Walking with Dinosaurs: The Arena Spectacular, is a live adaptation of the series.
The Guinness Book of World Records reported that the series was the most expensive documentary series per minute ever made.
By 2005, in The Trilogy of Life feature from the Walking With Beasts DVD, it was said that 400 million people had seen Walking With Dinosaurs. It is likely far more than this truly have, over half a billion.