Walking with Dinosaurs: The Arena Spectacular is a live adaptation of the series, that originated in North America, as 'Walking with Dinosaurs - The Live Experience'. It toured America 2007-2010, and currently tours Europe. In 2011 it is returning to North America. An Asian tour is being scheduled.
Artistic director William May developed the creative vision of the show based on an original idea by entrepreneur Bruce Mactaggart to create an arena version of the Walking with Dinosaurs television series. The show features animatronic and costumed dinosaurs and are narrated by on set boy (actor) named George. The show is directed by Scott Faris, a Broadway veteran. The creatures are designed and built by Sonny Tilders; the set and projected image design are by Peter England; the show's lighting is by John Rayment, the score is composed by James Seymour Brett; Warner Brown wrote the script. Tim Haines, producer of the original BBC series serves as project consultant.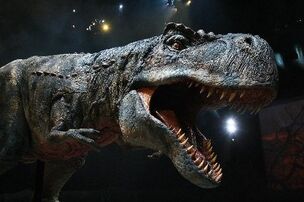 New Blood
is reduced to a battle between
Plateosaurus
and
Liliensternus
,
Time of the Titans
remains fairly the same, and
Cruel Sea
is skipped, due to the difficulty of recreating an underwater scene.
Giant of the Skies
is reduced for the same reason,
Spirits of the Ice Forest
is skipped, and
Death of a Dynasty
is reduced to some extent, but still features a lot of dinosaurs, like
T-Rex
,
Triceratops
and
Ankylosaurus
.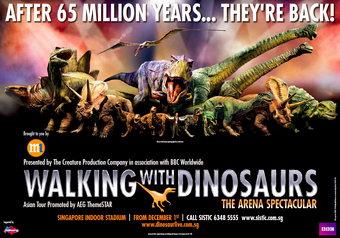 Creatures
Edit